Another unforgettable undertaking with one of our favorite musical groups, Hagroovatron, this design project began with a creative and fun concept which was a pleasure to carry on through to actualization. We began by building a funky and fresh set, on which the project would take place, from the ground up. We let the band go loose with a series of scripted antics and improve poses to create a project that would capture the personality and expression of the Israeli cover band's musicians and appeal to a global audience of fans.
We all had a blast and after seeing the final product come to life, everyone agreed that the event was just what the band and creative team had in mind. The entire project came to fruition as a stylish full CD booklet to complement the group's latest album release.
A continued partnership with former clients is the best feedback we can get as designers of digital and print media, products, packaging, and web pages. We had a blast on this one with you Hagroovatron and can't wait for the next exciting opportunity to work with the group. All photography provided by the talented Rannan Tal.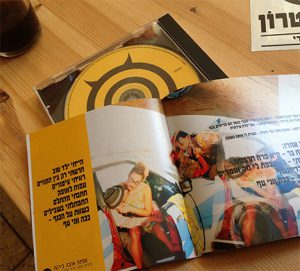 See Related: Branding / CD Design / Web Design